Opel Insignia, beidzot oficiāli
Auto
Beidzot ir klāt tā diena, kad Opel savu Vectru laiž pensijā. Tās vietā nāk jaunā Insignia. Dažas "spiegu" bildes mēs redzējām jau iepriekš, tagad varam apskatīt jauno auto visā savā godībā.
Jaunais dizains principiāli atšķiras no Opel pēdējo gadu modes. Pazudušas taisnās līnijas un Insignia sāk arvien vairāk līdzināties citam GM zīmolam - Buick. Auto ir arī paaudzies - tas ir par 21 centimetru garāks kā pašreizējā Vectra. Kā jau ierasts būs pieejami arī hečbeka un universāla modeļi.
Dzinēju gamma būs visai plaša. Tajā būs trīs dīzeļi un četri benzīna motori. Jaudīgā OPC versija droši vien sekos pēc kāda laika.
Auto publiski atrādīs Londonas izstādē vasarā, bet salonos tas nonāks rudenī.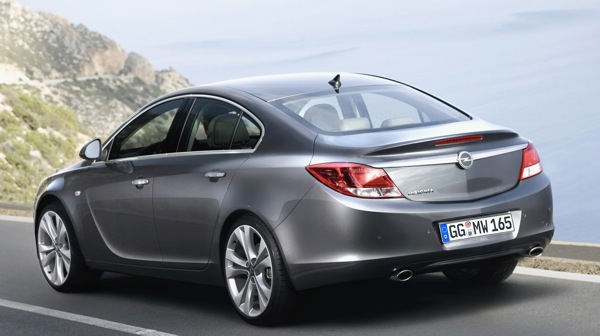 Opel Insignia: A New Design Language For A New Era
* Sculpted design with a flowing coupé silhouette
* Four-wheel drive, active chassis and seven engines available at launch
* World premiere July 2008 at the London Motor Show
Rüsselsheim. A new name, a new car, a new ambition. With its groundbreaking design and sophisticated technology, the Insignia makes a quantum leap toward rejuvenating the brand and providing the perfect opportunity to discover Opel. The styling of the new 4.83 meter five-seater clearly expresses Opel's strategy to make advanced technology and attractive design affordable.
The Insignia boasts a flowing, powerful silhouette with a coupé-like roofline. The body's sculpted shape is accented by a distinctive radiator grille with a newly-designed Opel emblem. Unmistakable design elements include a sweeping front and rear light "wing" signature and a "blade" side contour that begins directly behind the front wheel and glides through the entire side of the body. Both details give the Insignia's a muscular but graceful allure.
"With Insignia we are introducing an exciting new sophisticated design vocabulary, which combines sculptural artistry with German precision," says Mark Adams, Vice President Design, GM Europe. "Our aim was to develop a confident look which compels the world to experience for themselves the superb driving dynamics the Insignia radiates."
Echoing the exterior, the interior shapes and surfaces, which articulate this promise for exciting mobility, are crafted with high quality materials. The dashboard wraps around from the instrument panel to the door in a very sophisticated way, embracing the occupants. This wing theme will be echoed across all Opels. Red ambient lighting, which also will be featured in future Opel models, vibrate a warm, luxurious aura. A lot of emphasis too has been put into the seating, which set the highest standards in ergonomics, comfort and safety.
Opel's pioneering role and unique expertise in lighting technology continues in the Insignia with the latest generation AFL Adaptive Forward Lighting system: Nine different light beam settings automatically adjust themselves to cater to various driving conditions, simultaneously enhancing safety and driving excitement. Another new element on the AFL system is the LED daytime running lights, which consume considerably less energy than a conventional system featuring halogen lamps, thereby lowering CO2 emissions from 6 g/km to nearly zero.
"As each feature demonstrates, the Insignia is the result of our quest to develop a car that combines striking design, excellent driving dynamics and innovative technology" says Hans H. Demant, Managing Director, Adam Opel GmbH.
The Insignia is offered from the start with front-wheel and all-wheel drive. The "Adaptive 4X4" system's proactive, instantaneous torque distribution not only ensures optimal traction but also enhances driving stability and dynamic handling performance. In the all-wheel drive Insignia, the FlexRide mechatronic chassis system with its Adaptive Stability Technology helps the car adjust to prevailing driving conditions and allows the driver to select settings to match his mood. FlexRide is also available in the front-wheel version.
The Insignia will launch with an exceptionally broad range of seven engines. All meet Euro 5 emissions standards and come with either manual or automatic six-speed transmissions. The four gasoline engines range from a four-cylinder 115 hp unit to a V6 with 260 hp. The three new direct-injection diesels feature a displacement of 2.0 liter and outputs spanning from 110 to 160 hp. Subsequently the Insignia engine line-up will be expanded with an EcoFLEX version offering very low CO2 emissions in addition to other, more powerful variants.
"The Opel Insignia sets new standards in technology and innovation -- this will be obvious right from the launch. But we are keeping several cards up our sleeves when it comes to environmental compatibility, excitement and safety, which we will play strategically overtime" says Alain Visser, Chief Marketing Officer, GM Europe.
The Insignia notch- and hatchback will debut July 22, 2008 at the London Motor Show and hit showrooms starting in November. The Insignia was developed at GM Europe's International Technical Development Center in Rüsselsheim, Germany, which also is home to its production. The Rüsselsheim facility is one of the most advanced car plants in the industry.