Romas brīvdienas: Villa Adriana
Pasaule
Esmu nokavējusi desmit minūtes. Nākamais vilciens jāgaida veselas četrdesmit. Paspēju izpētīt visus sarakstus, apmest riņķi pa peroniem un pasēdēt uz soliņa, lai atrastu kārtējo kļūdu tūrisma informācijā.
Kad lēnām aizčāpoju līdz 23. ceļam, vilciens jau gaida. Nez kādēļ biju domājusi, ka nāksies braukt ar kādu izskatīgu divstāvīgo, nekā. Tāda parasta, ļoti noplukusi "eļektrička". Ieņemu vietu netālu no durvīm un gaidu, kad sāksim kustēt. Divas pusaudzes smēķē sēžot turpat uz kāpnītēm. Otrpus ejai apsēžas tante ar lieliem iepirkuma maisiem.
Vilciens vairākas reizes nošņācas, nopūšas, aizver durvis, tad atkal nošņācas. Kad beidzot sākam kustēties, šķiet pagājusi vesela mūžība. Attālumu līdz pirmajai pieturai vilciens čunčina tik lēnītēm, ka bērnudārznieks to mierīgi varētu noskriet. Nu mīlīši, ja tā brauksim visu ceļu... Taču nav tik traki, vilciens pamazām uzņem tempu. Ja tas notiek straujāk, iekšējās durvis ar blīkšķi aizsitas ciet, bet bremzējot man nākas parauties malā, jo ar tikpat lielu blīkšķi durvis atsitas pret manu krēslu. Mēģinu aizvērt un nostiprināt, nekā. Pie katra nākamā blīkšķa tante ar maisiem pašķielē uz manu pusi un kaut ko nopurpina pie sevis. Nez, viņa domā, ka es spārdu tās durvis, vai? Vai arī izsaka savus vērojumus par Itālijas transporta sistēmu?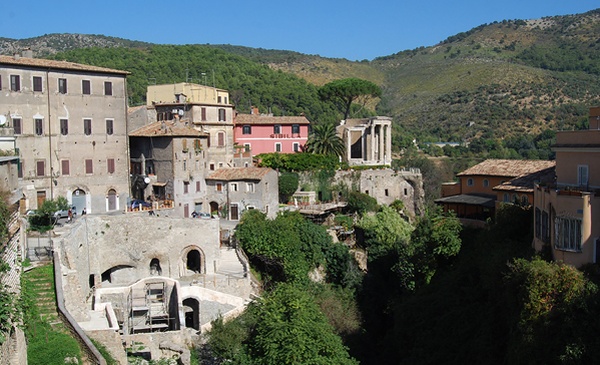 Itāļi taupa elektrību. Piemēram vilcienā tas izpaužas tā – vilciens apstājas, durvis ar šņākoņu atbloķējas un, ja tev ir nepieciešams, pats arī bīdi tās vaļā. Tā kādā stacijā mans tantuks sasparojas kāpt ārā. Vilciens piestāj, un šī rauj durvis vaļā. Nekā, neveras. Paķer savus saiņus un jož uz vagona otru galu, tā arī nepamanot, ka vilciens vēl nav apstājies "pa īstam", bet tikai pieturējis remontdarbu dēļ. Kādu laiku izmisīgi rausta durvis, līdz jož cauri nākamajam vagonam. Pa to laiku vilciens ir piešļūcis pie perona un ar pššš ver durvis vaļā.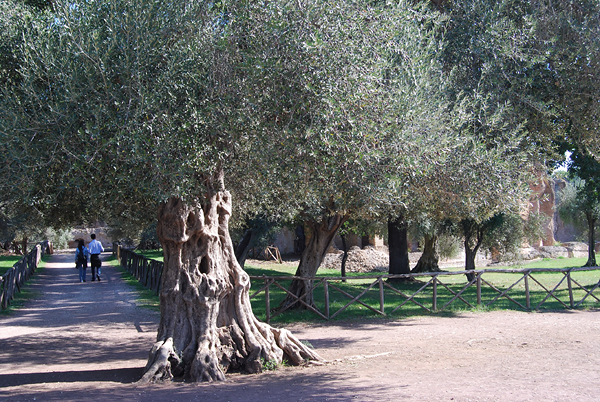 Nu nez, ko un cik tante saspaidījusi, bet durvis visu laiku šņākā – pššš, pk, pššš, pk, pššš, pk... Kad vilciens sāk kustēties, durvis joprojām šņākuļo. Pirmais neiztur iesirms vīrs rūtainā kreklā, iziet tamburā un ņemas pētīt. Nākamajā pieturā viņš mēģina kaut kā līdzēt, taču durvis tik atkārto savu pššš – pk. Tad palīgā nāk kungs zilā jakā. Ņemas pa abiem gar durvīm, bet tās tik turpina savu. Beigu beigās visi vagona veči salasās ap šņācošajām durvīm un katrs mēģina likties noderīgs. Nezinu, ko viņi izdara, taču pēc pāris pieturām durvis padodas un beidz šņākt. Ek, redzētu jūs tās apmierinātās uzvarētāju sejas! Kā runči, kas nupat tikuši galā ar krējuma podu. Mazliet vēl "pašūmējas" savā starpā, bet tad turpinām ceļu ierastā gaitā.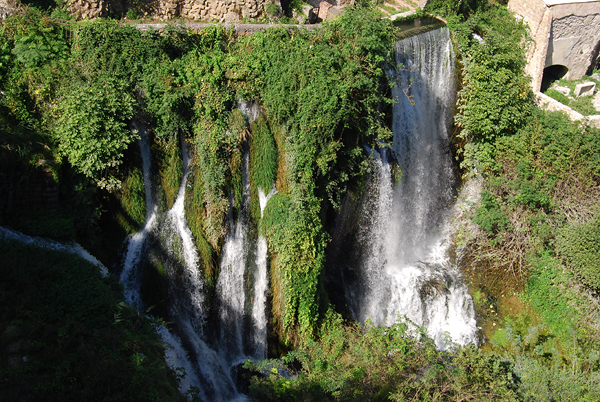 Stundas brauciena attālumā no Romas atrodas neliela pilsētiņa – Tivoli. Tūristus Tivoli galvenokārt vilina ar greznām strūklakām rotātā Villa d'Este. Taču šodien ir pirmdiena, objekts ir slēgts un klīstu ar savu mugursomu pa šaurajām ieliņām dziļā vientulībā. Sākumā pat nevelku no somas ārā fotoaparātu, šķiet, tas aizbiedēs trauslo burvības gaisotni.
Man ir divi mērķi - ūdenskritums Tivoli un Villa Adriana kādus 5 km tālāk. Sākšu ar to, kas pirmais gadīsies ceļā. Šaurās ieliņas pašķiras un nonāku uz tilta. Ar sajūsmu ieraugu sena tempļa kolonnas, kuras atpazīstu pēc internetā meklētās informācijas. Tepat zem tilta arī burzguļo ūdenskrituma tērcītes. Varbūt mazliet mazākas kā gaidīts, tomēr pietiekami glītas, lai nejustu vilšanos. Un galvenais, tik negaidīti zaļa pasaule, ne miņas no Latvijas dzelteni košā oktobra.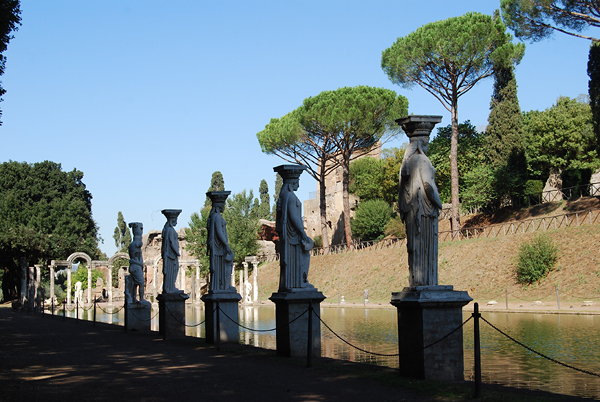 Turpat netālu pamanu arī stāvam autobusu, tādu labi apskrandušu un grafiti apzīmētu. Ceturtais numurs man liek pievērst uzmanību, vai tik tas nav manis meklētais. Kā tad – maršruts Tivoli – Villa Adriana. Turpat kioskā nopērku biļeti un ļoti apmierināta atrodu vietu pie aizsmērēta loga.
Kad buss ir lēnām norāpies no kalna, iebraucam miestā, kurš tā arī saucas Villa Adriana. Pieturā metos laukā, bet tūliņ pat secinu, ka laikam mazliet par ātru, jo autobuss iegriežas tajā pašā ielā, uz kuru norāda informācijas plāksnīte. Samulstu, kad secinu, ka šajā ciemā ietvju nav, jāčāpo tāpat starp mašīnām vien uz priekšu.
Norādes nepieviļ un pēc kāda laika esmu pie augstas sētas, aiz kuras esošā teritorija reiz aizņēmusi pat lielāku platību kā Romas centrs. Vārdu sakot – imperatora Adriana vasarnīca. Tā kā puisis bijis liels ceļotājs, tad arī sev noorganizējis pa gabaliņam no dažādām vietām – kādu dārzu no Atēnām, dīķi no Aleksandrijas utt. Aizrāvies ne pa jokam, tādēļ šeit atrodamas drupas no amfiteātriem, pirtīm, Jūras teātra un stadiona. Un gigantiskos apjomos. Bet pašlaik te ir paradīzes stūrītis ar putnu dziesmām (hm, oktobra vidus), briestošām olīvām koku zaros, ziedošām alpu vijolītēm un vēstures smaržu. Un siltu sauli...
Kad dodos atpakaļ, cerīgi skatos pēc autobusa pieturas, tomēr tā arī neieraugu, tādēļ nolemju vien kātot visu to gabalu atkal atpakaļ. Pusceļā iegriežos kioskā, kur puisis pilnā skaļumā skatās televizoru, tomēr pamanījis mani uzreiz pielec kājās un izslēdz skaņu. Nopērku autobusa biļeti, bet, kad jautāju pēc ieturas, viņš man neko labāku nepiedāvā, kā to pašu, kur izkāpu.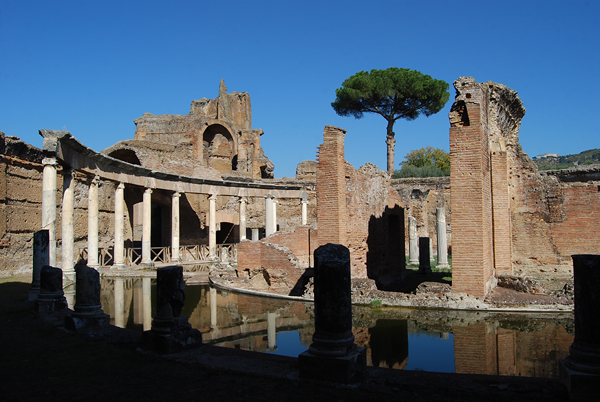 Pieturā aplūkoju biļeti un secinu, ka tā ir COTRAL (starppilsētu) busa biļete. Ha, un ko tad, ja pienāk vietējais autobuss? Kamēr gaidu, pretējā virzienā aiziet pat divi busi. Tikai pēc tam izdomāju, ka man taču ir kompleksā transporta biļete un mierīgi būtu varējusi braukt pa tiešo uz Romu. Lai nu kā, pienāk arī mans autobuss un dodos kalnup uz Tivoli.
Izkāpju pie bāra/kafejnīcas. Tāds mazs ūķis bez galdiņiem, taču rindā divi veči. Un kā jūs domājat, ko viņi pasūta? Vīnu? Grapu? Nekā, espresso! Izmet turpat pie letes un dodas prom. Man arī, lūdzu!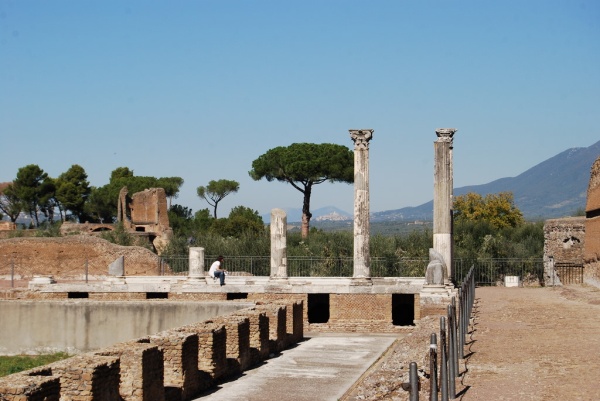 Stacijā kāds vilciens jau gaida, taču tā kā laika vel ir diezgan, bet vilciens ir uz nepareizajām sliedēm, tad lēnām pastaigājos pa peronu. Mazliet mulsina, ka visi, kas ierodas, kāpj iekšā, tādēļ aizeju vēlreiz līdz sarakstam. Skaidri un gaiši, 2. ceļš. Vēl ar roku pārlabots. Pag, pag, kādēļ pārlabots? Vīrs dzelzceļnieka formas tērpā turpat pastaigājas, un arī grasās jau kāpt atpakaļ vilcienā. Vai šis ir vilciens uz Romu? Jā, protams. Bet... Patiešām!
Kad sākam kustēties, pamāju ardievas Tivoli. Un, sekundi pirms iebraukšanas tunelī , es ieraugu ūdenskritumu. Īsto, to, kuru braucu skatīties. Milzīgs, ar skaistām kaskādēm. Un tad tunelis.
Un vēl:
- Bildes apskatāmas te:
http://foto.inbox.lv/fawlty/Roma2007
- Internetā itāļi ievieto informāciju, kas tomēr atšķiras no pareizas informācijas
- Romā izdevīgi ir iegādāties Roma pass (20 eiro) vai Roma & Piu pass (25 eiro). Abas kartes sevī ietver divu muzeju (tai skaitā Kolizeja u.tml.) bezmaksas apmeklējumu, bet pārējie par puscenu, kā arī trīs dienas bez maksas sabiedriskajā transportā.Roma & Piu pass sevī ietver arī Romas apkārtni, taču neiekrītiet, Leonardo ekspresim (Lidosta – Roma) tā neder, lai gan interneta lapā apgalvots pretējais.
- Kafejnīcās (ieskrietuvēs :)) mēdz būt tā, ka vispirms kasē jāsamaksā un tad ar čeku jāiet pie letes.
- Iepriekšējais stāsts par Romu:
1. daļa
,
2. daļa
.